So last night I went and saw my bff fo eva Jon become star of stage and...well, stage, in a production of Twelfth Night, the Shakespeare play about gender-bending, torturing uppity stewards, getting laid and a healthy dose of homoeroticism. Because (say it with me now) If there's
no
dicks
, it
ain't
Shakespeare
!
Anyway, Jon played Sir Toby Belch, drunk uncle to a Countess who swordfights, flirts with maids, drinks, sings, tortures the steward, drinks and is occasionally witty. And drinks. He had fun.
Meanwhile,
I dunno who made this but it's comforting to know there's someone on the internet who understands
I'm almost there. I have a symposium presentation on Friday, which is basically just me standing in uncomfortable business attire in front of a powerpoint with various watchmen comics on it going "please...please care. I know it's about comics and therefore silly, but...but I'm wearing pantsuit for fuck's sake, that counts for something, doesn't it? No? ...All right then"
Fun times.
In the meantime, good things:
I'm seeing Hanna tomorrow, which looks bitching:
So expect a review tomorrow night. CE is a bit less psyched about it, but I think it's mostly because of his
blood vendetta
against Saoirse Ronan
This song:
And also the fact that they finally picked a director for the Deadpool movie and Ryan Reynolds is still attached to star!! :D Miracles CAN happen when you believe!!
*indistinct whispering*
Whassat? The director they chose is a visual effects artist with absolutely no directing experience who did pretty pictures for the previous x-men movies?
*sniffle* I never believed in miracles anyway.
Umm, a different good thing! Uhhh...They're making a live-action Mortal Kombat digital series? ...no. That's not a good thing at all...Oh! Ra's Al Ghul is back in the next Batman movie!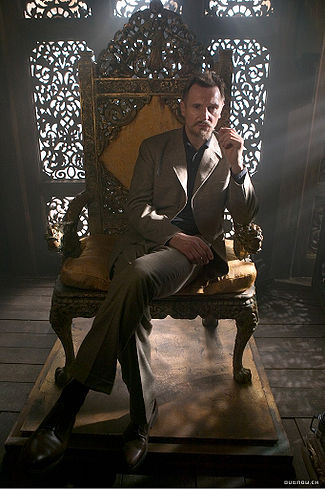 Be still, my beating Neeson
Oh wait, he's only coming back via flashback and is played by Josh Pence, aka Tyler Winklevoss's torso in The Social Network.
I know you can't see him, but he's totally there. Under Armie Hammer's superimposed face.
...Well shit. I give up.
This is Sugary Cynic, retreating to the Sulk Cave til further notice (it's like the Batcave but with more whining. Unless Bruce is feeling particularly vulnerable. Then it's about the same amount). 'Night!
Val: (texted to me) "Quote of the day: Michael Caine is pretty much a cross between Morgan Freeman and Sean Connery, but with less punching"