Ok so me and the boy saw Margin Call over the weekend, admittedly partially against my will. But with a trailer like this, can you blame me for being reluctant?
It practically screams, "WOAH GUYS, THIS TOTALLY ISN'T A DULL MOVIE OR ANYTHING, IT'S EXCITING! THERE'S QUICK CUTS AND LOW BASS AND THUMPING AND IT'S LIKE SOME KIND OF
CYBER THRILLER
! IT'S TOTALLY AWESOME AND ALSO NOT BORING DID WE MENTION THAT YET?"
So...it's actually really good

Like, really. Everyone brings their A game and in a cast comprised of Zachary Quinto, Paul Bettany, Kevin Spacey, Demi Moore, Stanley Tucci, Jeremy Irons and That Guy From The TV Show Medium, it's an awful lot of A.
A all up in this bitch

The plot follows thusly: It's 2008-ish and a very large and unnamed firm that does...stock...things, with like...mortgage...stuff? is cleaning house. Stanley Tucci's character Eric, head of Risk Management, is part of the unlucky group getting axed but before he leaves he gives one of his underlings, played Zachary "Eyebrows" Quinto, a thumb drive with his last unfinished project on it. Because Quinto's character has absolutely no social life, he stays at work and completes the project only to discover...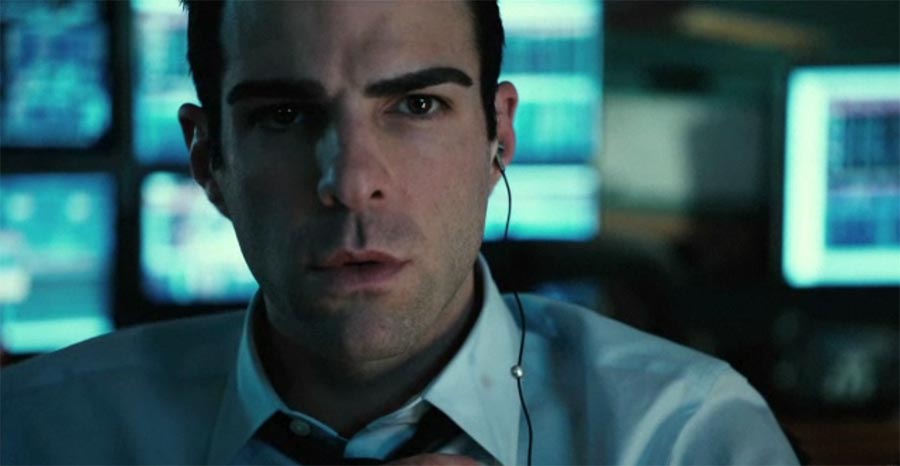 "Good God, that is an awful lot of porn"

Nah, he discovers what we're told in vague "Hollywood has a very loose grasp on how stocks and bonds and money works" way, that the firm's stocks/mortgages/magical golden geese are toxic, and that somehow they have stretched themselves beyond the limit and, the best part: they are teetering on the edge of losing more than the company is even worth.
"Tom beat my Angry Birds score! Oh and also our company is on the verge of collapse. But the Angry Birds!!"

A midnight meeting is called, people who make lots of money trying to ensure things like this don't happen are very confused. Zachary Quinto is confused. Everyone sort of stands around flummoxed trading really excellent bits of dialogue. And honestly, it's not as slow as I'm probably making it sound. The tension is palpable, this is clearly the biggest fuck-up in financial history, everyone looks like they're next in line for execution and the movie makes it feel like this one long night might be these people's last on earth. The cinematography is gorgeous and engaging and no scene feels extraneous.
In the end, decisions are made that will save individual asses but ultimately set up the prelude to the Great American Economic Suckfest that followed. There is a lot of talk about who is responsible and how we as a people live beyond our means, Paul Bettany gives two great speeches about how easily one can spend two and half million dollars and another I have reproduced here that beautifully and eloquently sums up the mess we're in as a country:
"People wanna live like this in their cars and big fuckin' houses they can't even pay for, then you're necessary. The only reason that they all get to continue living like kings is cause we got our fingers on the scales in their favor. I take my hand off and then the whole world gets really fuckin' fair really fuckin' quickly and nobody actually wants that. They say they do but they don't. They want what we have to give them but they also wanna, you know, play innocent and pretend they have know idea where it came from. Well, thats more hypocrisy than I'm willing to swallow, so fuck em. Fuck normal people"
Considering that this is director JC Chandor's first film, it is very ambitious and very satisfying. It may be a bit hard to track down but I definitely recommend it. Margin Call trades four and half catapults out of five.
Ps: We saw this at this little college theater full of old people who asked such wonderfully loud questions to no one in particular like:
"Which one's Kevin Spacey?"
"What'd he say?"
"Why's he handing him that piece of paper?"
"What's he doing?"
"Is HE Kevin Spacey?"
I made sure I dealt with them in a mature and appropriate manner.
This is Sugary Cynic, hiding all my money under my mattress. 'Night!
John Tuld (Jeremy Irons's character): "So you think we might have put a few people out of business today. That its all for naught. You've been doing that everyday for almost forty years, Sam. And if this is all for naught then so is everything out there. It's just money; it's made up. Pieces of paper with pictures on it so we don't have to kill each other just to get something to eat"